To the South
Rather than driving the northen route via Interstate 80, which begins right here in San Francisco, I decided to drive a more southern route, via part of the historic Route 66.
First leg : Sunnyvale, CA - Needles, CA, 526 miles, 8 hours
Wet conditions leaving the Bay Area at 15:45. Lots of traffic way below speed limit until Gilroy. Traffic also on route 152 and on Interstate 5. Drizzles until Bakersfield, then dry weather all the way.
Driving from Bakersfield to Barstow along route 58, which is not a freeway, and in some portions is not even a divided highway. Therefore I have to go along with the traffic, especially the slow moving freight traffic. It's already dark when I drive on this route, which is a shame, because it goes through the Mojave desert, which is quite beautiful.
Interstate 40 begins in Barstow. It joins the historic Route 66 which originates in Santa Monica, California. I will drive on this Interstate for most of its length, all the way to Tennessee. The speed limit is 70 in California, and the traffic moves along easily. Without realizing it, I have climbed to 2000 feet over the sea level, but before I stop at the California-Arizona border I will have descended back to 500 feet.
The day ends at Needles, a town originally devoted to support the railroad to Los Angeles, where I arrive at 23:45. Staying at the Needles Inn. $33 single occupancy, though there are 2 queen size beds in the room. Clean, cheap furniture from the '60s. Color TV, with cable (CNN, ESPN, TBS etc.) Bathtub had some dark marks on the inside. Wifi works without any problem, though it is slow but good enough for e-mails. Hearing the train go by. The tracks are probably very close, but apparently not too noisy. Going to bed at 00:40.
The night was not so pleasant. The room was warm, even without any trace of heating. The noise from the train continued throughout the night. I don't know if it was just passing trains or if they were working but I could not sleep well. The bed was okay. I guess sleeping in a new bed doesn't help. Sunlight at 6:15 AM. I wake at 6:30. Warm water without problem. 3 small soap bars, 4 shampoo bags. Other guests also waking up at about the same time, so cars starting in the parking lot. Ready for the second leg.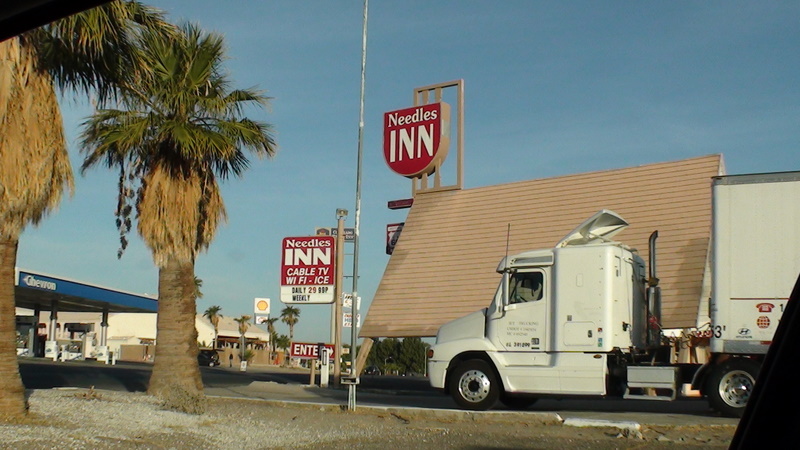 ---
Next : To the East